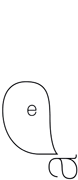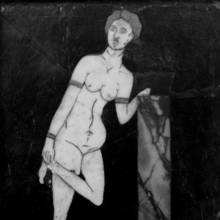 Kasia Fudakowski
Stoikerinnen
LP
AE021
June 2014, €15,-
The 12" vinyl "Stoikerinnen" (dt. for Female Stoics) by artist Kasia Fudakowski – born 1985 in London, lives in Berlin – is an integral part of an installation exhibited at Kunstverein Harburger Bahnhof from June 14 to September 19, 2014, the third exhibition in a series by Fudakowski which began with "Enthusiastinnen" in 2012 and was followed by "Pessimistinnen" in 2013.

"While Enthusiasts are able to get excited over almost anything which often leads to good-willed misunderstandings, and Pessimists utilise a kind of defensive pessimism in order to be, at best, pleasantly surprised by a non-apocalyptic outcome, the Stoics exercise denial and indifference in order to endure what life throws at them." Kasia Fudakowski

Fudakowskis LP "Stoikerinnen" contains audio created, manipulated and mixed by the artist. The record enjoys a collaborative feel of many voices since it contains a train of commissioned performances by Fudakowski's friends including: Alexander Brenchley, Dorothy Feaver, Sam de Groot, Paul Haworth, William Kherbek, Helen Marten and Ayumi Rahn.

Many of the texts and improvised dialogues on "Stoikerinnen" employ a comic darkness to focus on clichéd extremes of Stoic reasoning.
Fudakowski uses rough-mix samples of music from an as yet unreleased project by the producers Tobias Levin (Hamburg) and Volker Zander (Cologne), recorded live in 2014 at Levin's studio "Electric Avenue", Hamburg. The samples have a Dub feel and feature loose hand played tom fills and irregular mono-synth and upright bass lines under a slow and steady 808 drum grid.

"Stoikerinnen" can be read as 'comedy on Dub' and is Fudakowski's fan-nod to the manifold audio-arts of Hamburgian Postpunk humourisms, as well as late 90's British radio-creations such as Blue Jam.

Edition limited to 300.
Directly from Apparent Extent.

Tracklist:
A
1. Tanning Salon, Part 1
2. A Tormented Saint
3. Tanning Salon, Part 2
4. Ears and Tongues
5. Tanning Salon, Part 3
B
1. Put Your Hands …
2. Just Small Food and a Sit Down, Part 1
3. The Brain is the Biggest Erogenous Zone
4. Tram
5. Just Small Food and a Sit Down, Part 2
6. Don't Try This
7. Keep Your Hands Up
8. Mixed Salad
9. A Comforting Zoom
10. Just Small Food and a Sit Down, Part 3
Featuring Kasia Fudakowski, Sam de Groot, Paul Haworth, Dorothy Feaver, Christopher Fillipini, Helen Marten, Ayumi Rahn, Anna Sabrina Schmid, Anna Szaflarski.
This record is part of the exhibition 'Stoikerinnen' by Kasia Fudakowski, June 14 - August 17, 2014 at Kunstverein Harburger Bahnhof. Curated by Anna Sabrina Schmid. Kunstverein Harburger Bahnhof, 2014.
Music sampled with kind permission from "Don't Split Valley and Hill" by Tobias Levin and Volker Zander. Recorded at Electric Avenue Studio, Westwerk e. V., Hamburg, 2014. All rights reserved.