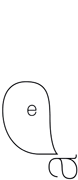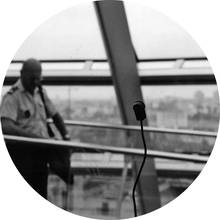 Natascha Sadr Haghighian and Rashad Becker
play:display
7" Clear Vinyl
AE023
September 2014, SOLD OUT!
The 7" single "play:display" by Natascha Sadr Haghighian and Rashad Becker was produced as part of the exhibition "A Glass Darkly" from September 28 - November 23, 2014 at Stroom Den Haag, NL, curated by Nav Haq. During the exhibition the clear vinyl record was handed out to the visitors.
7" Clear Vinyl, 33rpm
Edition of 500

Tracklist:
A1 play:display (Part 1) - 5:00
A2 play:display (Part 2) - 5:00

Nav Haq on "play:display"
"play:display is a sonic investigation into the notion of transparency. It is a soundscape formed by Natascha Sadr Haghighian and Rashad Becker from audio recordings made at two architectural sites in Berlin. One is the Reichstag (home of the German parliament) redesigned by Sir Norman Foster, the other is the renowned Sony Center at Potsdamer Platz designed by Helmut Jahn. For the recording, two contact microphones were used, installed onto the glass surfaces with an adhesive compound. Contact microphones are corporeal-sound converters, translating vibrations into voltage. Both sites are characterised by a dominant glass element, where 'transparency' seems to be the main emphasis of the architecture. At the Reichstag, the glass dome symbolises a new radical expression of democracy, and at the Sony Center, the particular transparent quality is considered a 'feature of the culture of a new millenium'. Borne from the ideal of being a democratic element, transparent materials cover more and more surfaces. From transparent buildings to transparent public figures, it suggests that transparency equals accessibility and accountability. But in analysing the acoustic quality of a material like glass, it demonstrates that transparent materials can also withhold and separate things. Whilst glass allows visual access, it is highly impermeable for sound. The recordings were inspired by the writings of R. Murray Schafer who states in The Glazed Soundscape (1998) – "The soundscape of every society is conditioned by the predominant materials from which it is constructed", suggesting that the invention of the glazed window not only created the notion of a 'here' and 'there' or a 'beyond', but also introduced a fissure of the senses."