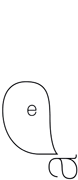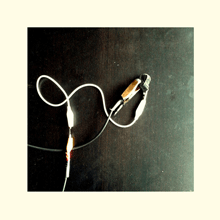 Franziska Windisch
Charcoal Circles
12" Vinyl + poster
AE025
June 2015, €15
The CHARCOAL CIRCLES project by Franziska Windisch explores the relationships between decomposition, sound and movement, object and reproduction. The record is a compilation of graphic and sonic elements: a recorded sound lecture, the notes from this lecture, including drawings and writings made during the performance, a recording of circular drawing movements using a piece of coal as contact microphone and a silk screen reproduction of this circular drawing printed with coal pigments. Notes and and drawings have been hand printed by the artist.

Franziska Windisch, born 1983 in Memmingen, Germany, studied at the Media Arts Academy in Cologne. She lives in Cologne and Brussels. CHARCOAL CIRCLES is the first edition of a two-part series of vinyl records by the artist to be released by Apparent Extent.

Part 1
SOUND LECTURE – 17:19 min
Recorded at fieldworks, Brussels, February 2015
NOTATION
Screen print on paper (42 x 59 cm)

Part 2
DRAWING – 15:03 min
A recording of the gestures made by drawing with a piece of charcoal directly connected to an amplifier through audio wire.
REPRODUCTION
Screen print of the given drawing on inner sleeve with charcoal pigments.

Mastered by Uwe Teichert.
Poster and inner sleeve hand printed at Academie voor Beeldende Kunsten Anderlecht.

Funded by Kunststiftung NRW.

Performances of CHARCOAL CIRCLES:
July 4, 2013, Nocturne 50 at KHM Academy of Media Arts, Cologne - video and lecture performance
June 3, 2015, ON-Neue Musik, Cologne - introduction
June 4, 2015, GOLD+BETON, Ebertplatz, Cologne - record performance and record release party