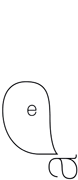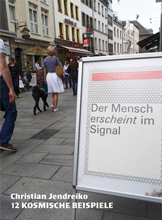 Christian Jendreiko
12 KOSMISCHE BEISPIELE
Catalogue, 164 pages, 117 illustrations, soft-cover, dt/engl
AE027 - ISBN 978-3-00-051459-3
January 2016 - Price: EUR 24,80
Der Katalog dokumentiert Christian Jendreikos zweijaehrige Aktionsreihe 12 KOSMISCHE BEISPIELE in der Berger Kirche Duesseldorf mit zahlreichen Fotos, Aktionstexten, Spielpartituren, Plakaten und Skizzen. Von Christian Jendreiko gingen Einladungen an Kuenstler, Musiker und Wissenschaftler aus der ganzen Welt, um im Rahmen von Aktionen an einem "post-partikularen Kunstbegriff zu arbeiten" und "Passagen zu finden zwischen dem, was heute noch in Kunst und Wissenschaft unterschieden wird."
Weiterfuehrende Erlaeuterungen und Kommentare zu Begriff, Form und Praxis der Aktionen im Werk von Christian Jendreiko kommen von Michael Hirsch (Philosoph, M?nchen) und Wilfried Doerstel (Kunsthistoriker, Koeln).
Michael Hirsch ueber Christian Jendreiko:
"Christian Jendreikos Aktionen sind Modelle in einem starken Sinne. Sie sind Uebungssysteme, konkrete Utopien einer sozialinnovativen, gemeinschaftlichen Lebenspraxis. In ihrem Rahmen geht es darum, hier und jetzt schon mit Voruebungen fuer ein anderes Leben zu beginnen. Es geht darum, jetzt schon so zu sprechen, zu denken, miteinander zu handeln und zu spielen, als ob wir bereits in einer befreiten Gesellschaft lebten; befreit, erloest von den Zurichtungen, Rollen- und Identitaetszwaengen der buergerlichen Gesellschaft. Es sind Praktiken nicht eines herausragenden (Kuenstler-)Subjekts, sondern einer Menge, einer kollektiven Intelligenz, eines General Intellect im Sinne von Marx. Das, was in den unterschiedlichen Formen der historischen Avantgarden immer gemeint war, der Uebergang der Kunst in "das Leben" und in "den Alltag", das ist in solchen Aktionen anvisiert oder angedeutet. Es wird ein Kommunismus des Geistes geuebt oder eingeuebt. Die Modalitaet seiner Handlungen ist praefigurativ; seine soziale Form nicht die des unabhaengigen, autarken Subjekts (und seines Spiegelbilds, des autonomen Kunstwerks), sondern die einer kommenden Gemeinschaft singulaerer Einzelner, die miteinander neue Formen des Mitseins erproben."
Michael Hirsch "Worum es geht - Ueber Aktionen und Modelle der Kunst: des richtigen Lebens im falschen", Seite 9.
The catalogue documents Christian Jendreiko's action series 12 KOSMISCHE BEISPIELE held in 2013 and 2014 at Berger Kirche, Duesseldorf, Germany with numerous photos, action scripts, compositional scores, posters and sketches. Christian Jendreiko invited artists, musicians and scientists from around the world to his actions to continue the work 
of a concept he calls "post-particular art" and "to find passages between what is still currently divided into art and science".

Further texts on Christian Jendreiko?s form of actions have been contributed by Michael Hirsch (philosopher, Munich) and Wilfried Doerstel (art historian, Cologne).
"Christian Jendreiko?s actions are models in a powerful sense. They are exercise systems, concrete utopias
 of a socially innovative, collective
 life praxis. Within their framework they are about starting exercises, here and now, in preparation for
 a different life. They are about speaking, thinking, acting and playing together as if we already lived in a liberated society; liberated, released from the fittings, from the constraints of roles and identities in bourgeois society. They are not the practices of one outstanding (artist) subject but of a group, a collective intelligence, a "general intellect"
as Marx would call it. That which was always meant by avant-garde 
in its various forms through history, the transition of art into ?life? and into the ?everyday?, this is the aim or implication of such actions. A communism of the mind is practiced or rehearsed. The modality of its actions is pre-figurative; its social form is not that of the independent, self-sufficient subject (and its 
mirror image, the autonomous artwork), but rather that of a coming community of singular individuals, who collectively try out new forms
 of Being-with (Mitsein)."
from "What it is About? About Actions And Models of Art: The Right Life in the Wrong One" by Michael Hirsch, p. 152.
Funded by Kunststiftung NRW.